Academy of Health Careers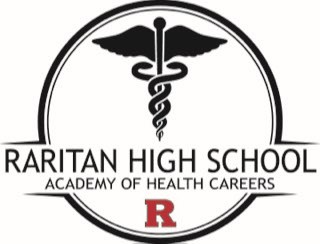 Application Deadline: September 30, 2022
Academy of Health Careers
In 2016, Raritan began its partnership with the Rutgers University School of Health Professions and implemented its college courses into our very own Academy of Health Science Careers credit by examination program. We began our first year offering Dynamics of Health Care and Anatomy and Physiology I. Co-teaching with Mrs. Blanchard, we developed a systematic approach to guide the program, its courses and our students to maximize the opportunities we could provide for them. We established a relationship with Bayshore Hospital, as well as multiple other local health care facilities where our students complete volunteer internships as a part of the program. Our second year of the program, we introduced a Medical Terminology course as well as Anatomy and Physiology II. We are currently in year six and have implemented additional courses into the program. We have been thrilled with the level of interest and motivation coming from the students who have entered the program. It has been a truly rewarding opportunity to guide students in a field that genuinely interests them and provide them with college level course work and experiences that will benefit them in their futures beyond Raritan.
Raritan High School Academy of Health Careers Scholar Project
Goal: To recognize students who are enrolled in the Rutgers School of Health Profession courses. Students who achieve this will be recognized as Distinguished Scholars. This will be reflected on the students' transcripts and celebrated at graduation with regalia and recognition.
Criteria for Distinguished Scholars: Students have to successfully complete three Rutgers School of Health Profession courses and complete 100 hours of clinical experience.
Recognition: Students who satisfy these requirements will be noted in the Graduation Ceremony Program and receive a red sash to be worn on their graduation gown.